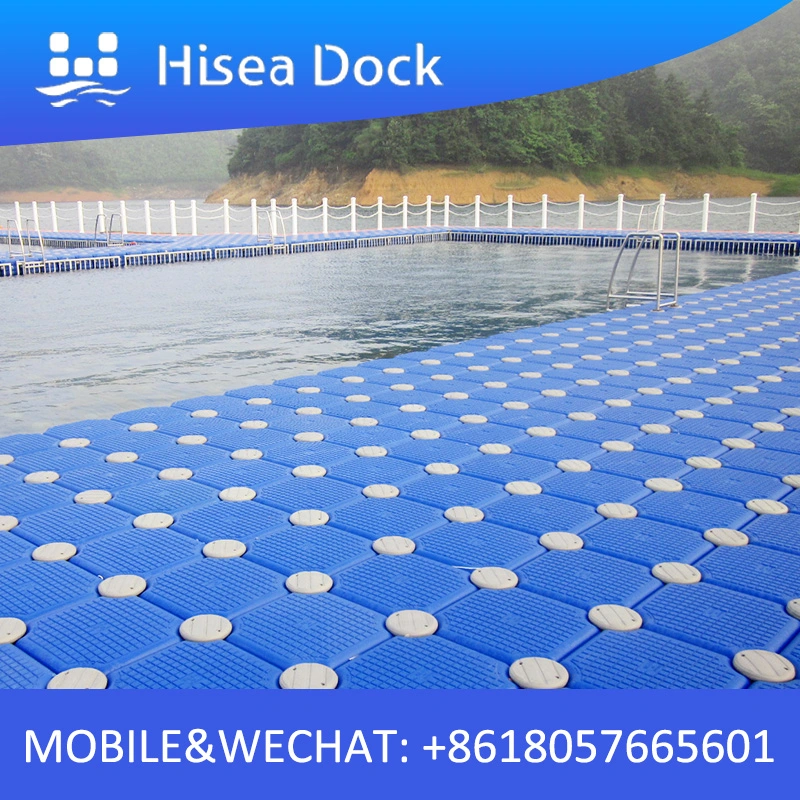 Floating docks are a great addition to any waterfront property. They don't just look great but also allow you to take full advantage of waterfront living. Plastic floating docks have been gaining popularity in the last few decades as they allow you to have all the waterfront fun without a hefty price tag.
If you're looking to install a floating dock on your property, here are 10 cool floating dock design for different applications.
Residential Floating Dock




Residential floating docks come in all shapes and sizes. Since plastic floating docks are modular and lightweight you can easily change the design of your dock as per your need. These docks can adapt to the natural movement of the tides and are reliable substitutes for stationary docks. They can be attached to the shore in many different ways and you can choose ones that can be used as drive-on docks.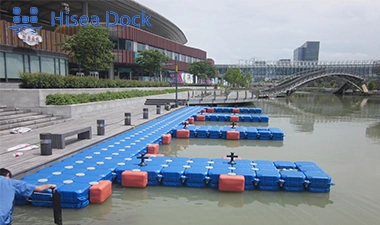 Floating Bridge and Walkway
Floating bridges and walkways are a great way to take advantage of your waterfront, especially if you live near a larger body of water. Plastic floating bridges made of good quality high-density polyethylene (HDPE) are strong enough to withstand heavy traffic and other types of impact. Floating pontoons are sturdy and can last you ages. They also require very little maintenance. Plastic floating bridges and walkways have anti-slip surfaces and secured handrails for safety.

Floating Island


If you're looking for a larger dock then a floating island is a great design for your property. You can use a plastic floating island for many purposes such as:
Large-Scale Docking Platform: You can use these floating platforms to dock multiple watercraft of different sizes. You can add drive-on pontoons to the structure to keep your jet skis and other PWC safe.
Recreational Place: Larger platforms can be used as a spot for relaxation and water recreational activities. You can install cabanas and other design details to use the platform commercially as well.
Floating Passageway: Extended platforms can help you get closer to your desired location on the water.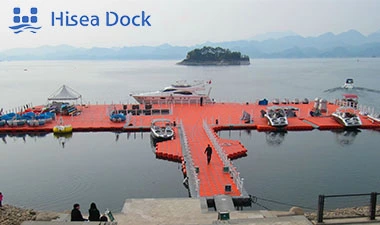 Floating Swim Platform
You can design your plastic floating docks as swimming platforms on any body of water. These platforms can be as large or small as you like. You can have the floating dock attached to the shore or one that floats in the middle of the water. With the modular structure of plastic floating docks, you can have a swimming platform that is rectangular, U-shaped, L-shaped, or more.
Floating Drive-on Boat Dock




If you want a dock that can be used to both mount your PWC and store them safely, then a drive-on boat dock design is perfect for you. These floating docks are more slender and flatter as compared to regular floating docks so you can easily drive your PWC on them. This docking system serves as your mobile parking space, only on the water. Now, you can park your boat at your waterside property.

Rowing Dock




A rowing dock system is perfect for mooring rowing boats and other PWC. Modular plastic floaties need to be assembled in a certain way to make them perfect for rowing boats. At Hiseadock we can design pre-made rowing docks so all you have to do is install them on your waterfront. Stable and robust rowing docks provide a safe docking system for coaches and rowers to enter and exit their shells easily.
Jet Ski Dock
If you own a jet ski and want a place to store it, then a jet ski dock is the answer to your prayers. Jet ski docks are smaller in size than regular docks. You can attach them to the shore and store your jet skis when you're not using them. Getting a jet ski dock will keep your watercraft in good condition and prevent any possible damages made by marine inhabitants. They will also make mounting on and off your jet ski easier and more convenient.

Floating Marina Dock




Marina docks are used for mooring multiple boats and other types of personal watercraft (PWC). This floating dock design is perfect for commercial use since you can rent out some of the space on your marina to watersports enthusiasts who want to store or use their PWC. Marina docks are usually installed near large bodies of water and they can be assembled in many different configurations.
Floating Restaurant


If you want to use your waterfront property commercially, there is nothing better than building a floating restaurant. Plastic floating docks can easily be used as the base for your restaurant. Don't let the name deceive you, good quality plastic floating docks are sturdy, can withstand a lot of weight, and can last you ages. Just make sure to choose a manufacturer that can provide high-quality plastic floating docks.

Cage Fish Farming




Floating docks can be used for cage fish farming businesses as they can provide a sturdy boundary for your cage. You can easily add more portable floats if expansion is necessary. Cage culture floats can endure water floatations. Through these fish cages, it will be easier to feed and catch fish. Hence, having a proper fish farming management.