The combination of the excellent lake water fishery environment and the high-yield cage fish culture technology has changed the traditional simple fishing model and produced high quality aquatic products, established an efficient market competitiveness, and promoted the rapid development of lake cage fish farming.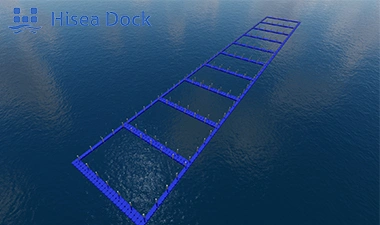 There are various methods for aquaculture. The floating platform built with floating buckets and the underwater part are housed in fishing nets to form a natural fishery is the choice of most people today. It is extremely convenient for the customer to determine the size of the fish pond.
Hisea dock-The most reliableHdpe Floats Manufacturers For Fish Farm and modular floating systems supplier for dock dealers and Builder.
The Floating Fishing Cage is easy to install and transport, and can be decomposed into a single specification. The installation site is flexible and changeable according to the water situation. For the severe situation of large water span and rapid flow, the segmentation interception can be implemented, which can effectively reduce the inconvenience during the installation process, and can also solve the high-intensity impact force generated by the decomposed water flow more effectively and better, and achieve better results. . Installation cost and post-maintenance are low-cost. After installation, it is not necessary to maintain and maintain from time to time, saving huge maintenance costs in the later period and saving labor costs. The reinforced material of anti-corrosion, anti-freeze, anti-oxidation and anti-purple line is not affected by seawater, chemicals, chemicals, oil stains and aquatic organisms; it is non-polluting and does not damage the environment. The product has a service life of more than 15 years. In addition to the strong natural force and artificial use, it does not require any maintenance and repair costs. The assembly is simple, convenient and flexible. The circular and semi-circular structures can be used to carry various types of pipelines. It can save a lot of maintenance, replacement and maintenance costs.